Joint GMDS-DGBMT Sessions 2023
Seit 2021 organisiert der Fachausschuss Biosignale gemeinsam mit der Arbeitsgruppe Bild- und Signalverarbeitung der Deutschen Gesellschaft für Medizinische Informatik, Biometrie und Epidemiologie (GMDS) Sessions auf den Jahrestagungen beider Gesellschaften. Eine Rückschau zu den Sessions im letzten Jahr findet sich auf den Seiten der GMDS-AG. In diesem Jahr befasst sich die Workshop-Serie mit dem multimodalen kardiovaskulären Assessment mittels signal- und bildbasierter Verfahren. Es werden aktuelle Forschungsergebnisse internationaler Forscher*innen aus unterschiedlichen Bereichen vorgestellt und diskutiert.
Session auf der GMDS-Jahrestagung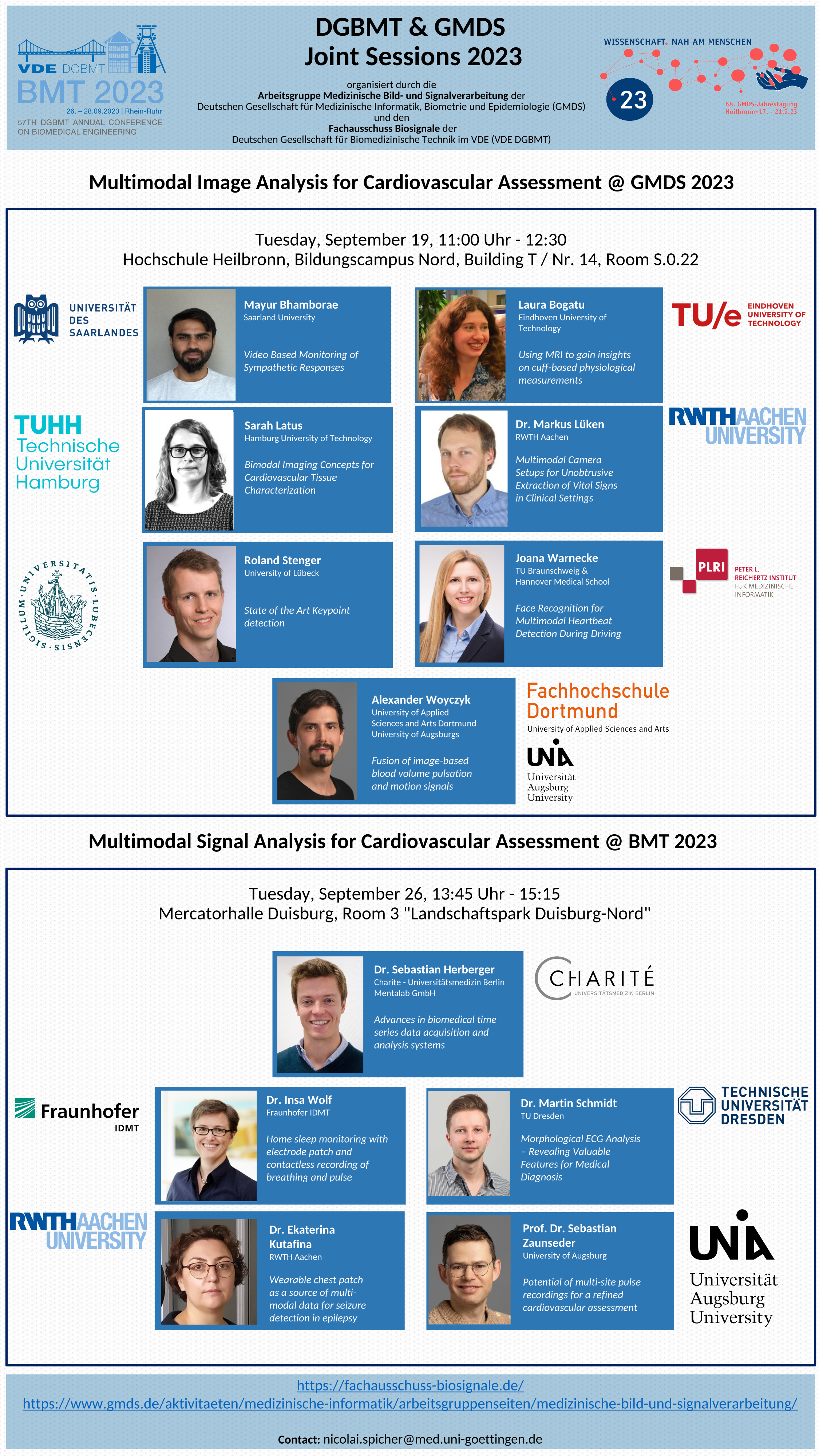 Dienstag, 19. September 11:00 Uhr - 12:30 Uhr im Raum S.0.22
Mayur Bhamborae (Saarland University): Video Based Monitoring of Sympathetic Responses
Laura Bogatu (Eindhoven University of Technology): Using MRI to gain insights on cuff-based physiological measurements
Sarah Latus (Hamburg University of Technology): Bimodal Imaging Concepts for Cardiovascular Tissue Characterization
Markus Lüken (RWTH Aachen): Multimodal Camera Setups for Unobtrusive Extraction of Vital Signs in Clinical Settings
Roland Stenger (University of Lübeck): State of the Art Keypoint detection
Joana Warnecke (Technical University of Braunschweig): Face Recognition for Multimodal Heartbeat Detection During Driving
Alexander Woyczyk (University of Applied Sciences and Arts Dortmund): Fusion of image-based blood volume pulsation and motion signals
Session auf der DGBMT-Jahrestagung
Dienstag, 26. September 13:45 Uhr - 15:15 Uhr im Raum 3 "Landschaftspark Duisburg-Nord"
Sebastian Herberber (Charite Berlin, Mentalab GmbH): Keynote: Advances in biomedical time series data acquisition and analysis systems
Insa Wolf (Fraunhofer IDMT): Home sleep monitoring with electrode patch and contactless recording of breathing and pulse
Martin Schmidt (TU Dresden): Morphological ECG Analysis – Revealing Valuable Features for Medical Diagnosis
Ekaterina Kutafina (RWTH Aachen): Wearable chest patch as a source of multi-modal data for seizure detection in epilepsy
Sebastian Zaunseder (Universität Augsburg): Potential of multi-site pulse recordings for a refined cardiovascular assessment
Weitere Informationen
... finden sich im Programm der entsprechenden Tagungen, einfach den Links folgen: